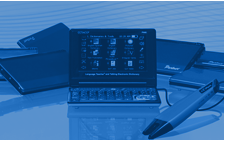 Distribute the world's best-selling dictionary and speech recognition translation software at an unbeatable price with a generous profit margin!
We propose to distribute CD-ROM "Ectaco Translation and Speech Recognition Software" (more than 100 different best-selling dictionaries for popular operating systems.) This disc contains a catalogue of Ectaco products. Demo and full versions are provided.
We offer you the following applications:
Partner Dictionary
Ectaco dictionary software provide fast and accurate translation of 400,000 words on average for each language pair. Our translation software is compatible with all popular platforms and operating systems.
Partner Voice Translator
The main function of the Partner Voice Translator is substitution of an interpreter in such standard situations as hotel registration, banking, shopping, banking, etc. You say a phrase in English, and the program recognizes what you said and pronounces the translation in the selected target language.
Partner Accent Remover
When you start studying a foreign language and try to pronounce your first phrases, it is helpful to have a practice aid - a cassette, CD or even a native speaker. It is almost impossible to learn how to speak correctly on your own.
Now you have a new, thoroughly contemporary way to study language - the Partner Accent Remover.
---
We look forward to reading your comments, ideas, requests and business offers.
E-mail to: anton@ectaco.com